By Sara Abdollahi and Tin Kuculo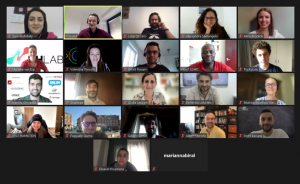 The Cleopatra project promised to participate in the Networking Sessions of the ESWC (Extended Semantic Web Conference) each year of the project's duration. The ESWC Networking Session is an opportunity to share knowledge between different EU and national projects, establish important connections, and discuss projects' respective research and development. This allows the participating projects to establish knowledge and technology sharing and identify complementary activities and goals.
This year's ESWC2021 Networking Session took place entirely online on June 9th, and two of our ESR students, Tin and Sara, presented the Cleopatra Project. Besides Cleopatra, eight other EU-funded projects participated in the Networking Session and discussed their requirements and results.
You can find their presentation here.
As the networking session can form the basis of future collaborations, research proposals, researcher exchange, or joint participation at events or initiatives, we were excited to participate.