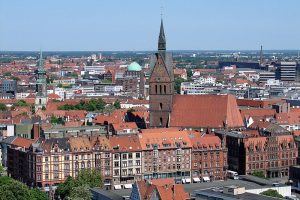 Like so many research projects since 2020, CLEOPATRA was significantly affected by the COVID-19 pandemic. Many of the planned events and meetings for the project had to be held online and there were fewer opportunities for the ESRs to get together in person. This made the final public workshop and business meeting organised in Hannover in May 2023 even more of an occasion. It was a chance for the whole CLEOPATRA team to come together as a group and celebrate the achievements of the ESRs over the lifetime of the project.
The public-facing workshop was an important venue for demonstrating the project results, exchanging ideas and discussing proposals for future collaboration ('au revoir' not 'goodbye'!). The keynote from Dr Thorsten Trippel offered a wonderful overview of where to find data and how to use it in research, bringing together the themes of the workshop and of the project as a whole.
The workshop was followed by a business meeting on Day 2, where there was an opportunity to talk through the structure and progress of the monograph contracted with OA Springer. The ESRs presented the progress they had made with their chapters so far and were able to review each other's work constructively.
The event and meeting, which centred the ESRs and their work, marked a fitting conclusion to the CLEOPATRA collaboration and sowed the seeds for future research and partnership.